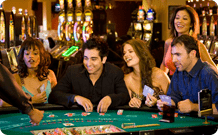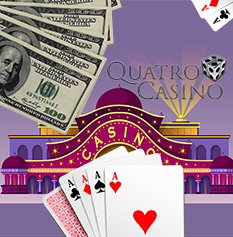 Players that fail to check terms and conditions are usually the same players complaining about a bonus being stolen from their account. But, as these players gain experience in the online gambling world, they realize just how important it is to read over the rules concerning withdrawal, the maximum payout, and other casino requirements.
For you today, we've done all the boring reading for you and we'll go over Quatro Casino withdrawal requirement, as well as other important criteria around the topic.
First, Second, and Third Deposits
First and second deposits at a new casino can be exciting. But the fun could all be taken away if you didn't read the terms and conditions. You wouldn't have found out that at Quatro Casino, withdrawal requirements subject your bonuses to a 200x playthrough before the bonus funds can be used as cash. Only then can you request your maximum payout withdraw.
Once you deposit the first and second times, the playthrough requirement drops down to a manageable 30x requirement before bonuses can be cashed out. However, wagers that are made from both bonus and cash segments will be counted toward the playthrough criteria.
Verify that You Exist
In order to withdrawal maximum payout, Quatro Casino must be able to prove that it is you playing behind the account. In essence, you'll need to verify your identity before you get a payout. Ways to do that are a valid passport, driver's card, or government-given ID card. In addition, the casino will need an official statement regarding your place of residency, which can be a bill or bank statement that's dated three months ago or sooner.
If the casino can provide adequate proof that you gave them bad documents or bad information, the casino has the right to void the documents. Then, your account will be closed, and you won't be getting a bonus anytime soon from this place.
The casino will hold your maximum payout until they have all of the documents and information necessary to approve your account. Oftentimes in the online betting world, this is where most time is spent waiting for a payout.
Say Bye-Bye to Your Account If...
Quatro Casino monitors withdrawal inactivity amongst another maximum payout and gameplay behavior. If you have not made a wager or withdrawal at Quatro casino in about two months, 60 days to be exact, your account is deemed dormant and will be closed. Any bonus money you had will be destroyed, but there is some silver lining. Your cash can be returned to your account if the request is made quickly and if the player in question can answer account security questions.
Weekly Maximum Payout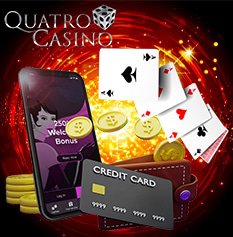 While looking for rules regarding maximum payout, we found one general rule of thumb for withdrawal at Quatro Casino. Players that are earning and winning big time (and that will be you eventually), "will only be able to withdraw their winnings at a sum of maximal $5,000 per week", according to the website. So, the maximum payout for Quarto Casino withdrawal is $5,000 per week.
Stated clearly in the terms and conditions, the casino has the right to change this amount as they see fit. It's up to the player to check back frequently to see if the maximum payout limit has increased or decreased.
Game Contributions Matter
Games on casino websites contribute to requirements at a different rate than others. This is vital to understand. Players sometimes take a bonus expecting to play one game when the game they like won't contribute a penny toward wagering requirements.
Quatro Casino limits withdrawal action with their extremely high wagering requirements. For example, a player that gets $100 in bonuses will have to wager $20,000. And that's with a game that has 100% contribution percentages. So, for those with 50%, a player will need to wager $40,000. To some, this just isn't a doable thing.
Parlor Games and Slots - 100% count toward wagering requirements.
Table Poker - 50% count toward wagering requirements.
Blackjack - 10% toward wagering requirements.
Video Poker - All video poker games, except All Aces Video Poker, count 2% toward wagering requirements. All Aces does not count toward wagering nor accruement of loyalty points.
Banking Withdrawal Details at Quatro Casino
Players that don't adhere to the rules concerning banking will find themselves in the hot seat or, simply without a bonus. Users must provide a credit or debit card in their name if that's the method they'd like to be using.
If for some reason, a player decided to withdrawal at Quatro Casino using a card or an account with a different name, the casino technically has the right to void any winnings. This is viewed as fraudulent or suspicious account activity and the casino will shut the account down.
No Cashouts for Irregular Play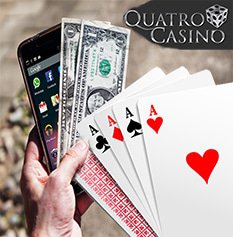 Players using the site in fishy ways might find their winnings to be voided and null. The casino lists irregular play as placing even money bets on roulette, playing for an intended minimum risk in order to meet bonus requirements, and withdrawing deposited money from the account.
To some users, this may be a bit strict. That's why it's dire to read the terms and conditions before playing. Every casino is different. The maximum payout, bonus terms, and overall gameplay will be highly variable from one place to the next. If Quatro Casino and the withdrawal requirements seem to be too crazy, head over to another casino that is more your style.
So, What's Next?
Now that you know all about the withdrawal requirements from Quatro Casino, and even the weekly maximum payout, what's next? Well, now you can either choose this casino as your next favorite place to play or keep looking for a new spot. One thing's for sure though, you'll keep checking those terms, conditions, and requirements. And if you don't read the important fine print, that's fine too. After all, who doesn't love to throw free money at casinos and never win? Said no one ever, so read the details!